News flash!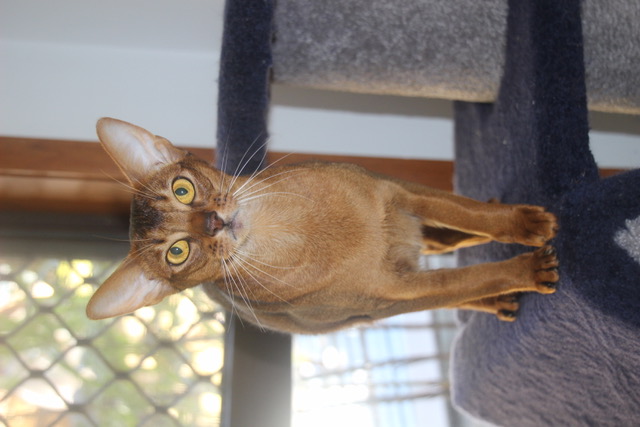 August 2022
Misty has retired from our breeding program. She is 2.5 years of age, desexed, microchipped, up to date with vaccinations, lifetime registered with NSW Council and pedigree registered with Cats NSW. She is looking for a home where she will be the princess of her domain. She is headstrong, active and needs to be the only pet in a household with no children. Misty is looking for her person who will know how to complement her purrsonality. If you are on our waiting list and are interested or think Misty may be the cat for you please contact us
NSW Breeder Number B000635109
Next litter planned for November 2022.
Please contact us if you would like to go on the waiting list.
We are a very small scale breeder so that all our animals are able to receive the love and attention they deserve. We only have 3 to 5 litters of kittens over the whole year. When researching from where to adopt a pedigree Abyssinian kitten make sure you adopt one that is house born and raised. The implications for their socialisation and social referencing is huge and will affect them (and you) for the rest of their life.
2019 The 35th Abyssinian Breeder Show
Double Grand Champion Swift Taj Burrow
Supreme Exhibit & Supreme cat
Best Abyssinian/Somali Exhibit in Rings 4 & 5
6th Best Abyssinian/Somali Exhibit in Ring 1
3rd, Best & Best Abyssinian/Somali Entire Cat
Swift Abyssinians -
Most Successful Abyssinian/Somali Breeder at the Show
2019 Royal Sydney Easter Show
Swift Ziggy Stardust
Best in Show
3rd Best in Show
Best Kitten Bred By Exhibitor
Please remember all cats are inside pets.
Visit the Cheshire Cat (Large files best viewed with Safari)

Welcome to Swift Abyssinians' website.
We are located in Sydney's Eastern suburbs, Australia. We are registered breeders with Cats NSW Inc. and follow their code of ethics.
We started showing our Abyssinian neuter, Cenglow Swift in 2005. By the end of that year we had decided that we wanted to breed Abyssinian cats and acquired our first queen, Nile Runcible Cat, Billie. Towards the end of 2006 we purchased Tijah Dakota Red who was our first stud cat. Jazz followed who was a fantastic addition to our showing and breeding program. Jazz was the Abyssinian Breeder Exhibit of the Year in 2008 and a CCCA Champion. He performed very well on the show bench being awarded multiple Best in Show awards as well as receiving the higher award of Best Exhibit. Jazz was the Abyssinian Breeder Cat of the Year for 2010. In 2018, we have entered a new era with our studs: Swift Taj Burrow, Cenglow Rapid and 'George'. Taj was Supreme Cat at the 2018 & 2019 Abyssinian Breeder Show while Swift Abyssinians was most successful breeder.
2022 brought more changes to our breeding program with Taj's son, Swift Feel The Rhythm to be a future stud. 'Billy' from WillowPark Abyssinians and 'George' complete the Swift stud line up. Our queens include Swift She's Like The Wind and Swift Mystic Ember with little Blue up and comer, Swift Lilli Pilli.
Swift Abyssinians aim to breed active, healthy Abyssinian cats with good temperaments as pets. Also, we hope to produce some breeding and show quality cats. We raise our kittens in our home so they get all the love and attention they need. It also means they are exposed to the noise of washing machines, vacuum cleaners and people coming and going. When cats leave our home they are microchipped, desexed, vaccinated, wormed and treated for fleas. Our cats and kittens are inside pets and new owners are reminded that they are not to be let outside unsupervised or left to roam. Being an inside pet does not deprive cats of a good life; it prevents them from being lost, stolen or run over and protects the wildlife.
All breeding cats are PRA normal and PK deficiency free.
Last updated 31st August 2022