| | | |
| --- | --- | --- |
| | | |
| Swift Wonderful Wizard of Oz | Swift Toto | Swift Leo |
26th June 2019
The kittens are 7 weeks of age and have been registered with Cats NSW Inc. Their pedigree names were influenced by their parents' African themed pedigree names and the rain that was falling the night that they were born. This made us think of the song 'Africa' by the band Toto. The song contains the line 'I bless the rains down in Africa'. Toto was Dorothy's dog in the Wizard of Oz and therfore we had to have a little lion too so the kittens are named: Swift Wonderful Wizard of Oz, Swift Toto and Swift Leo.
| | | |
| --- | --- | --- |
| | | |
| Big Tawny kitten | Small Cinnamon kitten | Big Cinnamon kitten |
2nd June 2019
The kittens have grown so much over the last week and are exploring the whole bedroom, even trying to climb the scratching post.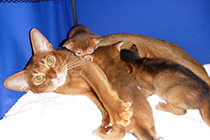 26th May 2019
Feeding time with mum.
14th May 2019
All snuggled up, keeping warm.
8th May 2019
Chobe with her new babies. A very proud mum.
George and Chobe's litter was born on the 5th May 2019.