Pedigree
Swift Dr Pepper is from Swift Soda Pop and and Helen Norwood's Highgaitpaws Van Morrison (Imp USA). He is a cheeky cinnamon boy with purrsonality overload. Dr Pepper is 'Mr Nice Guy', so sweet and loving, a big teddy bear at heart. He has lovely strong features, golden eyes and a beautiful expression. Dr Pepper carries the dilute gene for coat colour. He is PRA normal and PK deficiency free.
At the 2014 The Abyssinian Breeder Show in Canberra, Swift Dr Pepper was awarded the
Best Cinnamon Exhibit Perpetual Trophy as the highest scoring cinnamon exhibit.
For 2014 in The Abyssinian Breeder Awards he was 2nd Cinnamon kitten and 2nd Cinnamon Exhibit.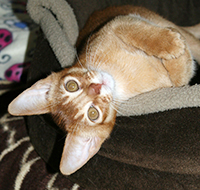 SHOWS 2014
Blue Point Siamese Show - 4th October 2014
Ring 1 - Best in Section, Best of Breed, 3rd Male Kitten judge Wendy Hamilton
Ring 2 - Best in Section, Best of Breed, 2nd Male Kitten, Best Aby/Somali Kitten judge Fiona Mangan
Ring 3 - Best in Section, 3rd Male Kitten judge R Watson
Western Districts Show - 26th July 2014
Ring 1 - Best in Section
Ring 2 - Best in Section
Ring 3 - 3rd Male Kitten judge M Morgan (USA)
St George District Cat Club Show - 13th July 2014
Ring 1 - 5th Male Kitten judge Judy Lewis
Ring 2 - Best of Breed judge Maureen Norberry
Ring 3 - 3rd Male Kitten judge Karen Moore
Federal Cat Club Show - 15th June 2014
Ring 1 - Best in Section
Ring 2 - 2nd Male Kitten judge C Pollock
Ring 3 - Best in Section
Central Coast Cat Club Show - 1st June 2014
Ring 1 - 3rd Male Kitten judge Nic Tricarico
Ring 2 - 3rd Male Kitten judge Fiona Mangan
Ring 3 - 4th Male Kitten judge Janice Davey (NZCF)
The Abyssinian Breeder Show - 18th May 2014
Ring 1 - 10th Aby/Somali Kitten in Show judge Kathy Calnoun (CFA USA)
Ring 2 - 3rd Aby/Somali Kitten in Show judge Kurt Vlach (TICA Austria)
Birman All Breeds Show - 17th May 2014
Ring 1- 6th Shorthair Kitten in Show judge Tomoko Vlach (TICA)
Ring 2 - 11th Shorthair Kitten in Show judge Janis Christison (QFA)