| | |
| --- | --- |
| | |
| Baby Doll | China Doll |
13th & 14th April 2016
The kittens are growing up so quicky and this week are 7 weeks of age. They have been registered with the NSW CFA as Swift China Doll & Swift Baby Doll. The story behind their names is rather convoluted but here is a shortish version: their father is Swift Dr Pepper (named after a soft drink because his mum was Swift Sodapop) and their mother is Swift Aztec Rose, also known as Rosa or Rose which is a name that could be derived from a nice rosé wine. As a baby, little girl was tube fed and was so tiny that she became known as Baby Doll which just so happens to be a lovely NZ Savignon Blanc wine. Following on with the 'doll' & 'wine' theme, we decided upon China Doll for the bigger girl. China dolls are beautiful glazed porcelain antique dolls and China Doll is a favourite Sydney restaurant which serves amazing food and wine.
8th April 2016
Baby Doll and China Doll have discovered the hammock which is part of their jungle gym.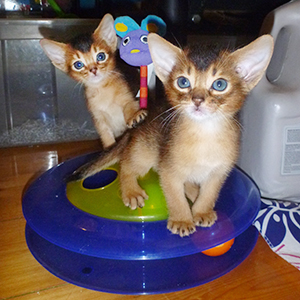 Baby Doll & China Doll
28th March 2016
Both the kittens are eating food, piling on the weight and enjoying playtime.
| | |
| --- | --- |
| | |
| Baby Doll | China Doll & Rosa |
23rd March 2016
The kittens are approaching 4 weeks of age and seem to have made so much progress. Litter training, food consumption and testing out the scratcher are all part of the daily routine. Baby Doll often tries to do at least two of these activities at once, pictured above in the litter tray with food all over her nose.
| | |
| --- | --- |
| | |
| Baby Doll | China Doll |
20th March 2016
Born just over 3 weeks ago, these little ones are growing up way too fast!
16th March 2016
The kittens have become very mobile and when they hear voices they come waddling.
| | |
| --- | --- |
| | |
| Baby Doll | China Doll |
11th March 2016
The kittens have very beautiful faces with rich colour and a lovely blackness to their coats.
6th March 2016
Rosa encourages the kittens to leave the nest and their reward is feed time.
3rd March 2016
Finally, there has been some progress and weight gain; the kittens look content.
26th February 2016
Despite trying to suckle the little ones don't seem to be receiving any milk. Rosa has mastitis, so only limited amounts of milk are being supplied to the babies. She is on antibiotics and the littlest baby is being tube fed as she is losing weight.
25th February 2016
Rosa and Dr Pepper's kittens arrived in the early hours of 25th February 2016. Both are Tawny females, one is 101 grams and the other is 85 grams.
| | |
| --- | --- |
| | |
| Swift Aztec Rose | Swift Dr Pepper |