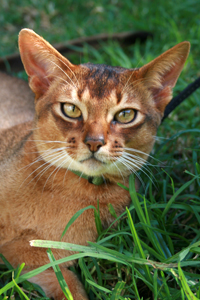 Merindalee Sam I Am comes to us from Melbourne. He is tawny and carries the cinnamon coat colour gene. Sammy is a loving boy with a lovely head type and good ear placement. He was born on the 13th October 2011.
Sammy's first litter was to Swift November Rain on the 28th August 2012.
Sammy's second litter was to Swift Glamour Cat on the 4th January 2013.
Sammy's third litter was to Swift Poppy on the 16th January 2013.
Sammy's fourth litter was to Swift November Rain on the 1st November 2013.
December 2013 - Sammy has now been retired from his stud duties.
We would like to thank Eileen & Karel Pittaway (Merindalee Abyssinians) for allowing Sammy to become a part of Swift Abyssinians.
Welcoming Merindalee Sam I Am
29.01.12

Merindalee Sam I Am is a very welcome addition to the Swift Cattery. He started his show career today with a BANG being placed in all 3 rings: 5th, 2nd and Best Male Kitten, as well as a Best Aby/Somali Award.