| | | |
| --- | --- | --- |
| | | |
| Dr Pepper - staying | Pepsi Max - adopted | Fanta - adopted |
12th March 2014
The Soda Pop gang have had their first vaccination and have their official names: Swift Dr. Pepper, Swift Pepsi Max and Swift Fanta. They are a friendly bunch and have started to eat solid food.
| | | |
| --- | --- | --- |
| | | |
| Cinnamon boy | Tawny boy | Cinnamon girl |
28th February 2014
Soda's kittens have been testing out the litter trays, although a lot of time seems to be spent playing in them rather than using them. They are running around the room, playing and are very receptive to human contact. Such a cute bunch.
| | | |
| --- | --- | --- |
| | | |
| Cinnamon boy | Tawny boy | Cinnamon girl |
14th February 2014
Soda's kittens are 2 weeks of age and have opened their eyes. The cinnamon girl is keen to explore and has tried to escape the kittening bed already.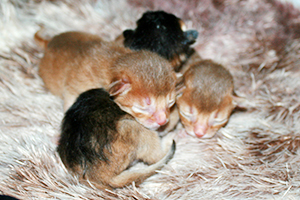 1st February 2014
On the 31st of January 2014, Soda finally gave birth to her kittens on Friday night producing a tawny and two cinnamon kittens.
Swift Soda Pop and Highgaitpaws Van Morrison (Imp USA) are expecting kittens at the end of January 2014. We would like to thank Helen from Jodaerin Abyssinians in Perth for allowing Soda Pop to have kittens with Morrie.