| | | | |
| --- | --- | --- | --- |
| | | | |
| Layla | Kisima | Djemila | Zahra |
| adopted | adopted | staying | adopted |
18.01.08
| | | | |
| --- | --- | --- | --- |
| | | | |
| Layla | Kisima | Djemila | Zahra |
22.12.07
The kittens are almost 7 weeks of age and are running around, climbing the scratching post and playing with anything that comes across their paths. They are registered with the NSW Cat Fanciers' Association. Two tawny females are available.
10.12.07
5.12.07
At 4 weeks of age the kittens are all up and running, some are using the litter tray and life is an adventure!
30.11.07
The kittens are just over 3 weeks old and are climbing out of their bed. Their back legs are getting stronger and there is lots of exploring to be done. They are taking note of what mother Sweets does and one even dared to go through the cat tunnel.
20.11.07
The kittens are two weeks old and growing quickly. They are very active and are crawling around. They are responding to movement and sound...so cute!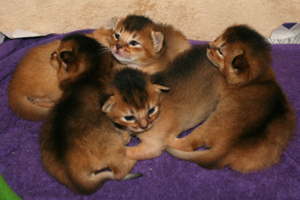 17.11.07
All the kittens have opened their eyes and are ready to explore. They have almost tripled their birth weights now.
15.11.07
The kittens are very mobile for such young things and their eyes are starting to open.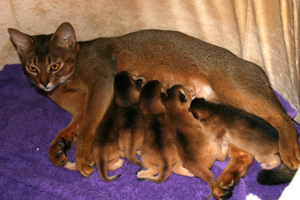 11.11.07
The milk bar is open.
Mug Shots...
7.11.07
The kittens are all drinking and putting on weight. Sweets seems very proud and happy to show them off to us. At this stage it looks like there are four girls and one boy (second from the right).
6.11.07
Four more kittens were born during the early hours of the morning. All are tawny and doing well, ranging in weight from 91g to 128g.
5.11.07
Sweets gave birth to one tawny kitten at 10pm and continued into the night.
With one week to go Sweets is feeling rather fat.
Grand Champion Johari Africander & Cenglow Sweeter Than (Sweets)
Sweets & Grand Champion Johari Africander (Buddie) are expecting kittens at the beginning of November. Sweets & Buddie are both tawny and we expect tawny kittens from this mating. We would like to thank Carol from Johari Abyssinians for letting us use her stud, Buddie.
Please contact us if you are interested in a kitten.