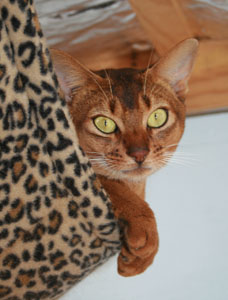 21st March 2010
Willow has retired from his stud cat duties. He has been a fabulous show cat ending his career as a CCCA Champion and Bronze Double Grand Champion. He was NSW Group 3 Male Cat of the Year for 2009.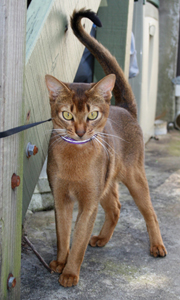 25.10.08
30.05.09
Willow has become a personality plus stud who revels in the attention that the show bench provides. He recently became a Grand Champion and was Supreme Exhibit at the last show he attended. Willow sired his first litter a few months ago.
31.05.08
Willow has developed into a lovely coloured stud who is still playful and outgoing. He has only been to a few shows and has managed some good Top 5 placings as well as being Best Abyssinian Kitten, and is always up against our other boy Jazz who has done so well. He loves time out on his lead to play and chase feather teasers.
12.01.08
Willow took on the challenge of learning to walk on a lead today. Initially he wondered what the strange thing around his tummy was but soon he was off bounding through the grass and chasing flies. He even had a friendly encounter with Storm.
9.01.08
Willow has had a fun filled day finding fabulous fishing toys, feathers and food. He was not phased by Jazz and quite happily frolicked in the fanfare with his new friend.
Willow is a tawny kitten who we hope will become a buddy for Jazz. He carries the Cinnamon coat colour gene and dilute gene for coat colour. Willow has lovely colour and clarity. Both Willow's parents are PRA normal. He was born on the 19th October 2007.