Swift Storm & Swift Flaming Star
14.07.07
Storm and Flaming Star are almost eleven weeks old and are almost ready to take the next steps in their lives. Storm will be our new up and coming queen while Flaming Star will move closer to the beach to enjoy life as a treasured pet.
26.06.07
Storm and Flaming Star have integrated themselves into the household and Sweeter Than has taken on the role of nanny quite happily...as can be seen in the photograph above.
11.06.07
The kittens are now six weeks old and are interacting with everything that comes across their path. They are eating solid food, playfighting with mum and each other as well as using the litter tray.
30.05.07
At a month old the kittens are ready to run wild and cause chaos...well at least stumble around and get their noses in to everything. When they hear people arrive to visit them they poke their heads out of their cubby and run over for attention. So cute!
27.05.07
The kittens are almost four weeks old and have been registered with the NSW Cat Fanciers' Association under the names Swift Flaming Star and Swift Storm. During the last week, they have started to play fight, wash themselves and lick mum's empty food bowl clean. They are very active; Storm likes to explore while Flaming Star prefers to observe and play.
21.05.07
The kittens are three weeks old now. The fawn can sit and is trying to climb out of the nesting box. The tawny boy has continued to put on weight steadily and now weighs 416 grams.
14.05.07
At 2 weeks, the fawn girl is standing and lifting her head with some control. The tawny has surged past the 300 gram mark with a massive 22 grams put on in the last 24 hours.
11.05.07
Billie has continued to nurse her kittens well. The tawny has reached 266 grams while the fawn weighs 253 grams. Their eyes are open and they are moving around more.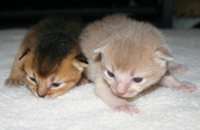 8.05.07
Both kittens have started to open their eyes. They are pushing themselves around the nesting box with their hind legs.
5.05.07
Billie and Dakota's litter was born on the 30th of April, 2007. There are two beautiful kittens in the litter: a tawny male and a fawn female. Both kittens seem healthy and Billie is nursing them well. It is now Day 6 and the kittens have almost doubled in weight. Both kittens are reserved.
30.04.07
Billie and Dakota's litter is born.