MIRACLE

A little seed
Will grow into a tree
Leaving us in wonder
As it sleeps
Who on earth can fathom
Who on earth can know
For you were but a thought
In your makers' eyes

I may not
Always believe
But you're nothing short
Of a miracle

Feeble tiny hands
Bound for greatness
You will rise and fall
Like the rest of us
But love will keep you up
And always be the crutch
That will see you through
To the very last

I may not
Always believe
But you're nothing short
Of a miracle
Clever minds
Will second guess
But to me
You're a living miracle

Something else
Comes over me
Grace has come to set me free
In your hands you hold a new forever

We may not always believe
Blessed with sight
We rarely see
Pride and lust is our disease
And the cure is you
Little miracle

Written by The Temper Trap. Lyrics by Dougy Mandagi.

Swift Sweet Disposition
Swift Miracle aka Mr Cinnamon
Swift Temper Trap
23rd October 2012
The kittens have been registered with the NSW CFA and have been named after the Melbourne based band The Temper Trap who were part of the entertainment at the AFL Grand Final this year. Probably their most well known song is Sweet Disposition and another of their songs is Miracle which is from their latest album. The lyrics to the song, Miracle, capture Mr Cinnamon purr-fectly.
| | | |
| --- | --- | --- |
| | | |
| Tawny girl | Cinnamon boy | Tawny boy |
14th October 2012
Nova's kittens are 6 weeks old and visited the vet to have their first set of vaccinations. They are using the litter trays, eating food and growing by the day.
| | | |
| --- | --- | --- |
| | | |
| Tawny girl | Cinnamon boy | Tawny boy |
1st October 2012
Nova's kittens are coming up to 5 weeks of age and are going through a growth spurt. They are enjoying racing up the scratching post, playing hide-and-seek and running around the room chasing balls and each other.
18th September 2012
Play fights are on!
Tawny female, cinnamon male & tawny male
10th September 2012
The kittens have opened their eyes and have become more mobile. They are trying to escape the kittening bed.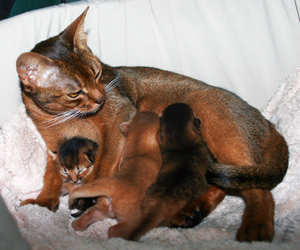 3rd September - Nova & kittens
4th September 2012
Nova is feeding the kittens well as they are all putting on weight, every day. Some of them have started to open their eyes.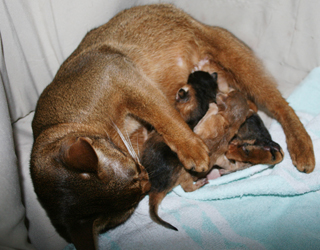 Nova & kittens
28th August 2012
Swift November Rain and Merindalee Sam I Am's litter was born on the 28th of August 2012 consisting of two tawny kittens and a cinnamon kitten.
| | |
| --- | --- |
| | |
| Swift November Rain | Merindalee Sam I Am |