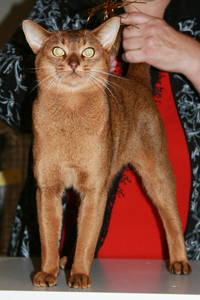 September 2012
Jazz has pretty much retired from showing but he went to a show this month and gained a best in Show as well as a CCCA Award. This was the 10th CCCA Award he has received since gaining his CCCA Triple Grand Champion title and therefore means he has now become a CCCA Sapphire Triple Grand Champion & NSW Diamond Double Grand Champion. What a star!
31st July 2011
Jazz's latest title is CCCA Triple Grand Champion and NSW Diamond Double Grand Champion which he gained at his second show as a neuter. There are not many Abyssinians in Australia who have gained such a high national title so he has had a superb show career.
7th June 2011
Jazz has been a wonderful show cat and stud boy. Today he retires from his stud cat duties but will attend some shows as a neuter. He has achieved the amazing title of CCCA Double Grand Champion and NSW Diamond Double Grand Champion.
Both Jazz's parents are PRA normal and he is Pk deficiency free.
The final results are in for the 2010 Abyssinian Breeder Awards& NSW CFA Cat of the Year Awards...
Jazzy wins Abyssinian Cat of the Year!
CCCA DB GD CH & Diamond DB GD Ch Johari All That Jazz
2010
Abyssinian/Somali Cat of the Year
NSW CFA 3rd Best Group 3 Male Cat
30.05.09
Jazz has developed into a gorgeous stud who likes cuddles and walking in the garden on a lead. On the show bench, he has had many Best in Show wins as well as Best Group 3 Exhibit. Jazz has now attained the title CCCA Champion, Bronze Double Grand Champion. He has fathered four litters so far and produced some lovely Swift kittens including, Tiger Lily, Black Pearl, Brontee and Rock the Kasbah.
21.09.08
Jazz became a champion after his first two shows as an adult.
| | |
| --- | --- |
| | |
| Supreme Kitten | |
31.05.08
Jazz has developed into a beautiful, intensely coloured stud who has been placed in the Top 5 at every show he has been, including 12 Best Male Kitten awards and 3 Overall Best Kitten awards. Earlier this month he was named Supreme Kitten at the Abyssinian Breeder Show. Next month he will try his luck in the adult rings. He loves a good cuddle and has just embarked upon his stud career with our queen, Sweeter Than.

12.01.08
Jazz has been enjoying having Willow as his latest buddy. Today, Jazz relaxed in the garden.
9.01.08
Jazz and Willow were getting to know each other today.
5.12.07
Best buddies - Dakota and Jazz
Johari All That Jazz comes to us from Carol Collins. He is a tawny kitten who will become our next stud cat. He may carry the blue coat colour gene. Jazz is a loving boy with lovely colour and good ear placement. He was born on the 6th September 2007.
We would like to thank Carol Collins (Johari Cattery) for allowing Jazz to become a part of Swift Abyssinians.